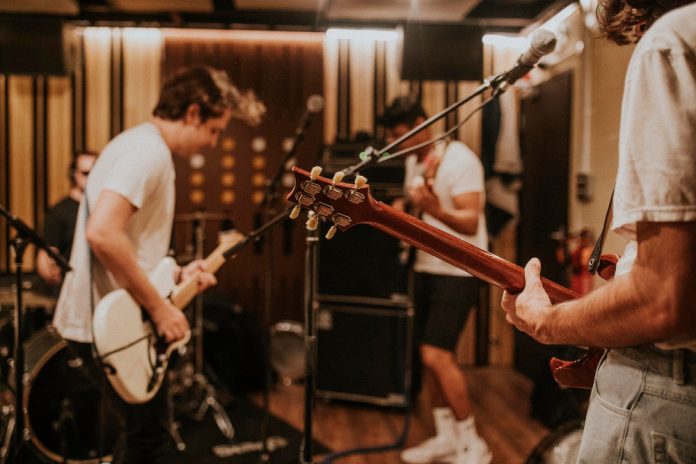 Presenting your music online is as important as any other business or industry online. In the modern world and time, online platforms and websites are the fastest way to reach a new audience, gain more followers, and connect with them.
The internet changed how people live music and get familiar with performers. Social media accounts are not enough. Websites are there for a real standout in the huge ocean of new sounds.
A website can be personalized, showing a true soul of an artist, and making a stronger bond with an audience. If you are a new musician on the way to becoming a star, you should not be discouraged with a low budget for a website. WordPress is an amazing platform for any type of business with a big library of different free or reasonably priced themes. It does not require special coding knowledge and can be prepared very fast.
This article will recommend some of the most popular WordPress themes for musicians, bands, and DJs you could use for your website in the following year.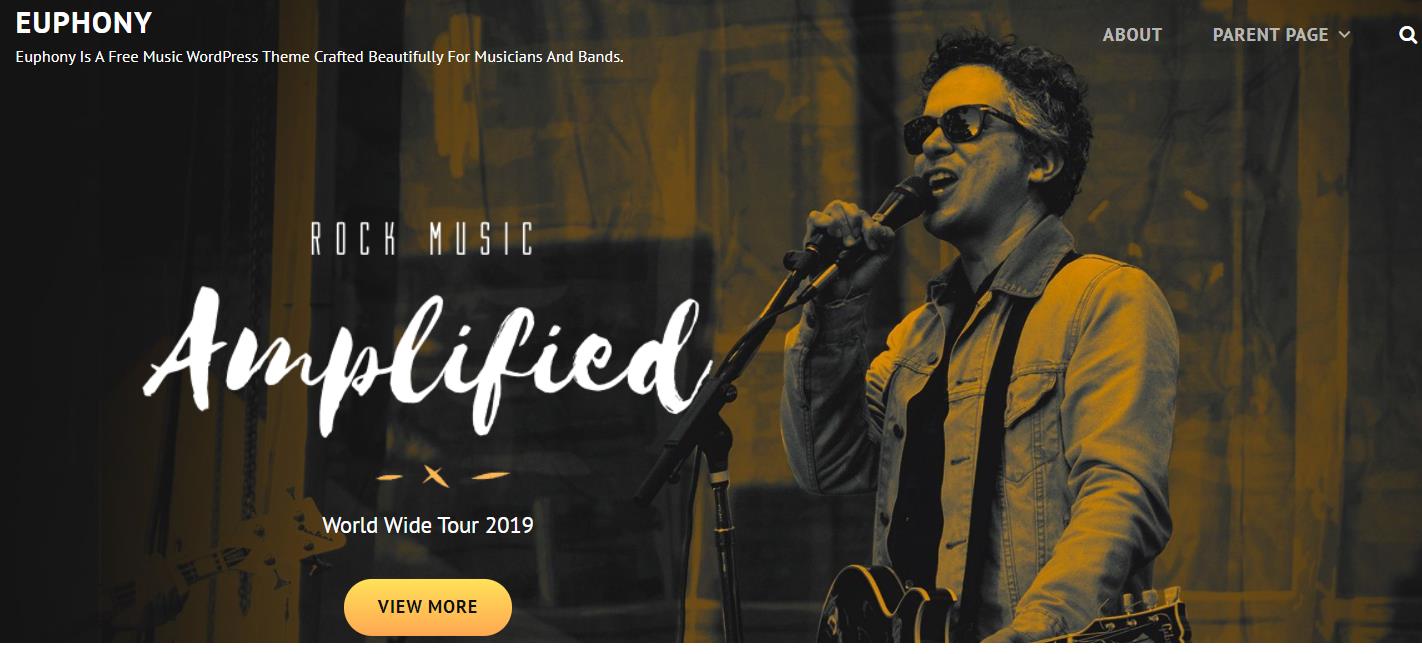 Euphony is a trendy and simple free WordPress theme well-suited for musicians and bands. Its simplicity is the strongest part of the design, yet it allows users to interact with the media and data presented.
It can be enriched with different pages about the artist, containing Portfolio, Services, Testimonials, Featured Content features, among others. It is an excellent option for anyone music-related since its dashboard and features allow you to customize everything and apply your design and creativity.
The theme is an interactive and responsive design adjustable for all displays. Euphony Pro costs $59.99 per year, offering a long list of advanced features.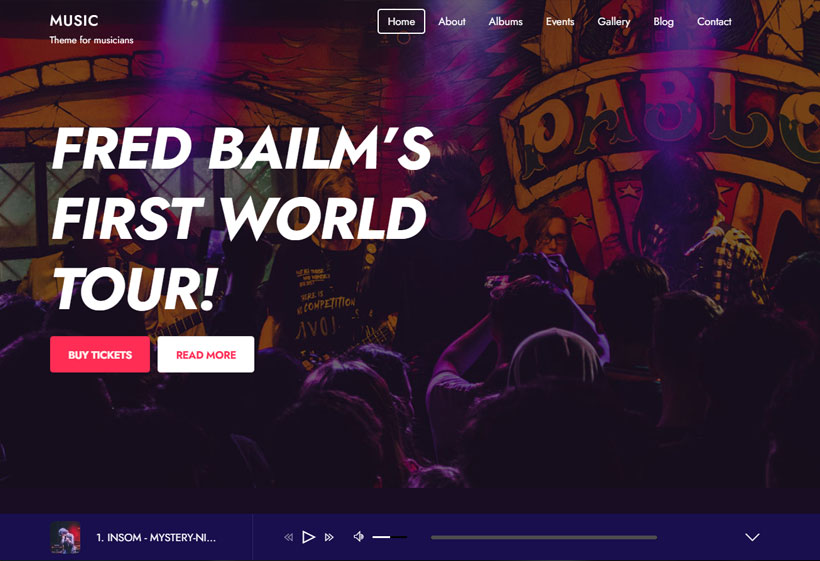 Themify theme is another simple theme for artists who want to present their media in one place. This theme has the option of embedding music and video players for continuous listening while there, displaying it, or playing in the background.
This theme is responsive, showing all website content on every device and resolution without any problems. Using Themify Builder, a user can personalize the theme by adding an unlimited number of layouts and pages containing galleries, music or videos, or a calendar for future events.
It comes in two versions, Standard of $59 and Developer of $69, containing photoshop files for customization.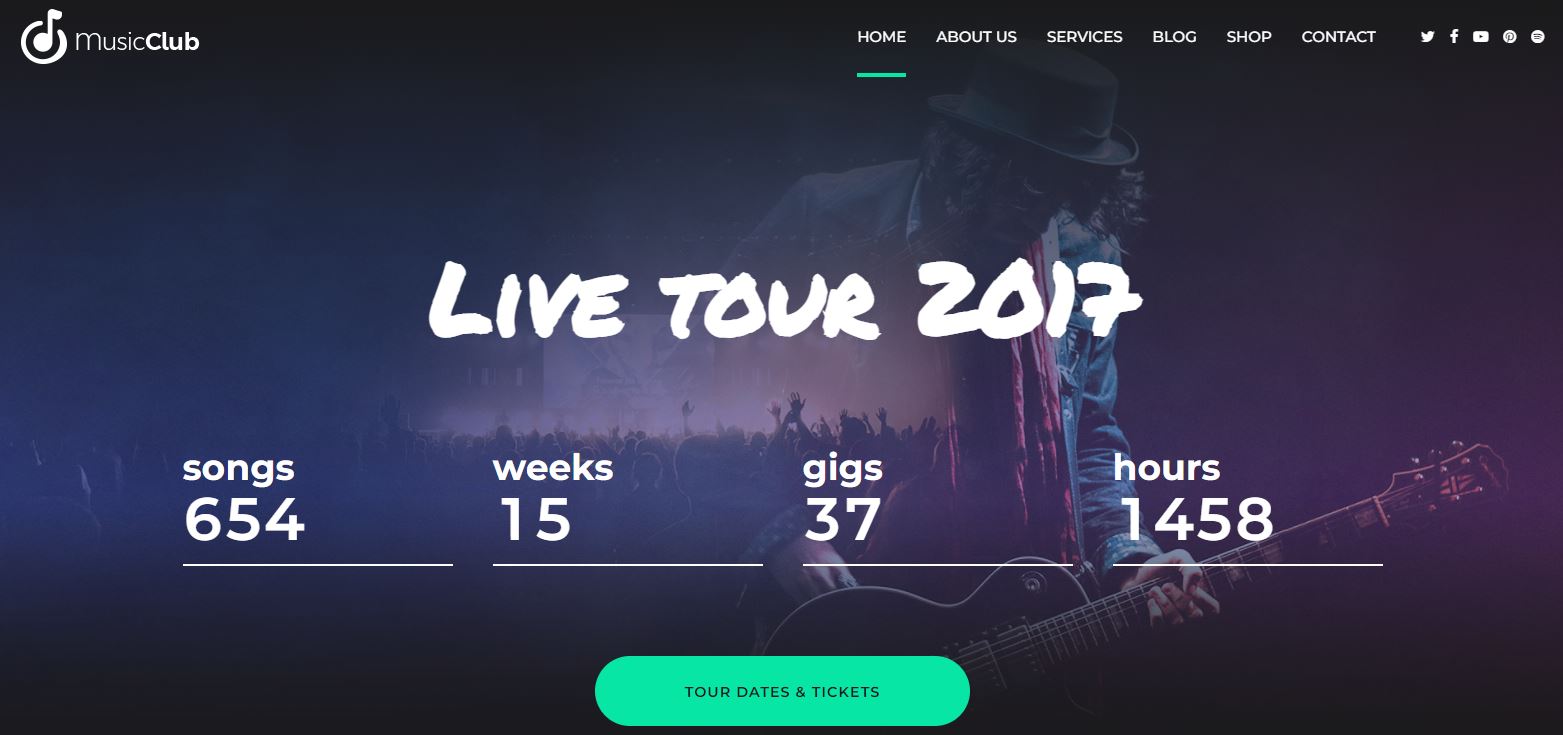 Music Club theme is suitable for studios, music festivals, solo artists, bands, or DJs. Its basic appearance conceals a wealth of incredible potential. The Music Club theme includes a fully changeable layout that can be tailored to your preferences and requirements. Theme builder ensures quick and simple import and configuration.
You can change the number of headers, menus, or content boxes at any time. You can also give your touch of creativity with color changes or by picking one of 500 different Google fonts.
Music Club is a fully responsive and interactive theme tested for all devices. It easily integrates with WordPress plugins that might come in handy for you. WooCommerce is an excellent option for selling your music or other music-related prints and products.
Its regular license costs $69. Extended license costs $2950 and offers more user and advanced features.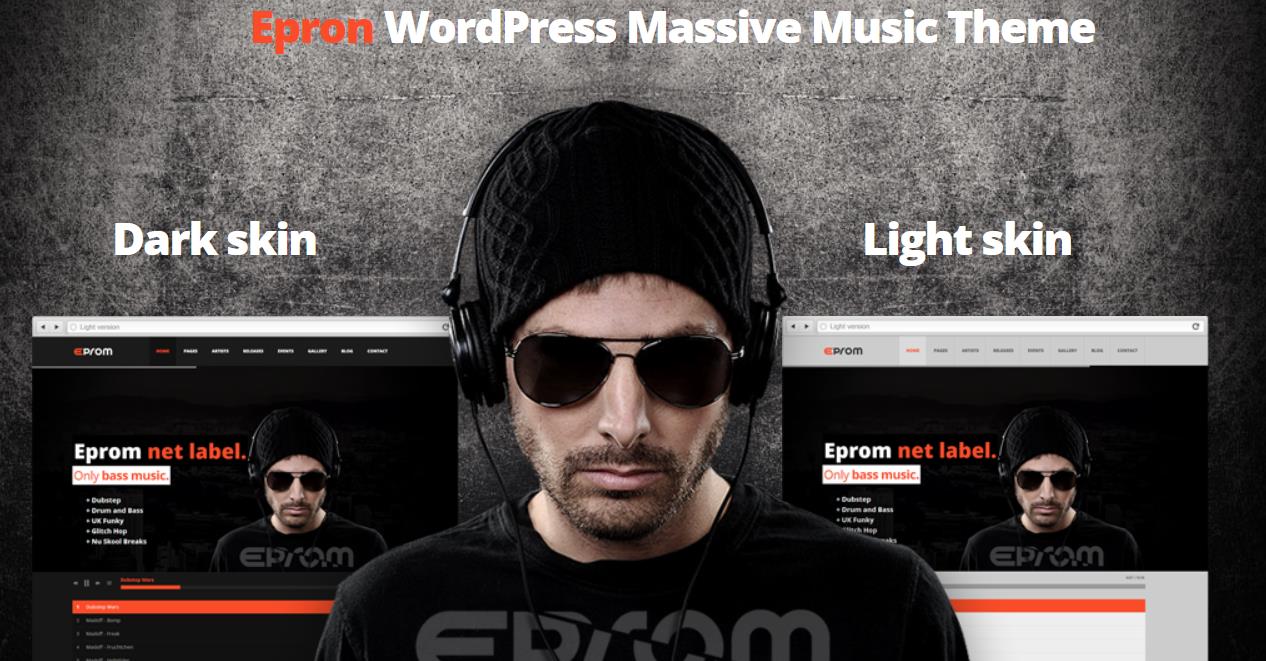 Epron Theme is another very popular theme due to its flexibility and simplicity. It is best suited for DJs and music producers, but it is also used among other music-related artists. Its innovative design helps with answering all musical needs online.
Theme builder helps you customize it and completely personalize your website, with options of creating many layouts and adding many headers and menus as much as you want. You can also use a built-in music player to have constant music playback.
Epron integrates with Spotify, Soundcloud, Mixcloud, among other players. It can quickly become a simple portfolio site or entire album/single collection with music snippets in the back. You can also use this theme and your website as a shop since it perfectly works with WooCommerce.
There you can sell your music or music-related products. This theme has a fully responsive design, which can be perfectly presented on all devices with its integrations, content, and sections. Its Standard license costs $59.
Conclusion
The themes above are currently the most popular on the WordPress theme market. They offer great possibilities for presenting your music, creativity, and style in the best way possible.
Some of these themes are free, some of them would cost you some money, but all of them would make your way to the stage brighter and stronger. Don't be the one who does not count on websites anymore, and be sure to start this year in the best way possible for your music.