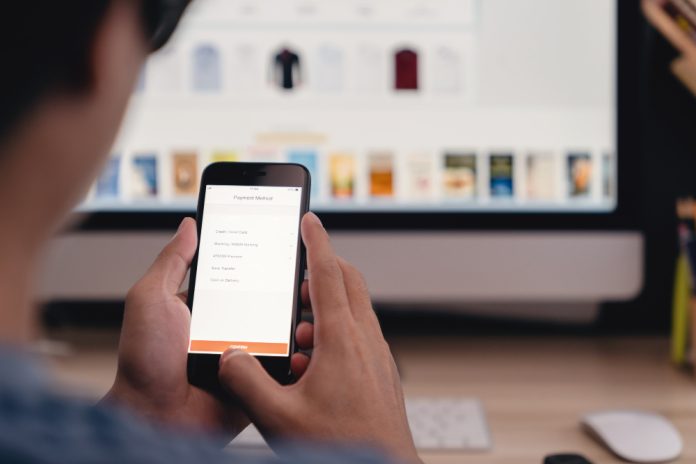 Nowadays, especially in the last couple of years, people really got used to their convenience and comfort so much that they expect it in every aspect of their lives. Online stores picked up on that, using this expectation to their advantage.
If you want to set up an online store, you will need hosting for your website. Our recommendation is WPMU DEV hosting. The hosting meets all of the requirements. It's the best WordPress host on TrustPilot since it's cheap, quick, secure, and fully dedicated. Here you can get a 20% discount on any of their plans.
Customers always want to know if they are getting the best deal, and that notion has pushed websites to implement pricing tables. Pricing tables are nothing more than tables that show you the price of the same or similar product on a bunch of different websites. They are used to attracting customers by showing them they will be getting the eBay deal if they buy the product from your website.
As an example, we can take Amazon. Their pricing table shows you the product you were searching for, but they will also show you alternatives of the product that you can buy. Amazon uses this technique to get more conversions and upsells.
In addition, pricing tables can also be used to show varied tier prices of subscriptions or services. So, whatever you're selling, you might want to have one of these on hand to be more transparent. In this article, we will be suggesting pricing table plugins that you should definitely implement on your website.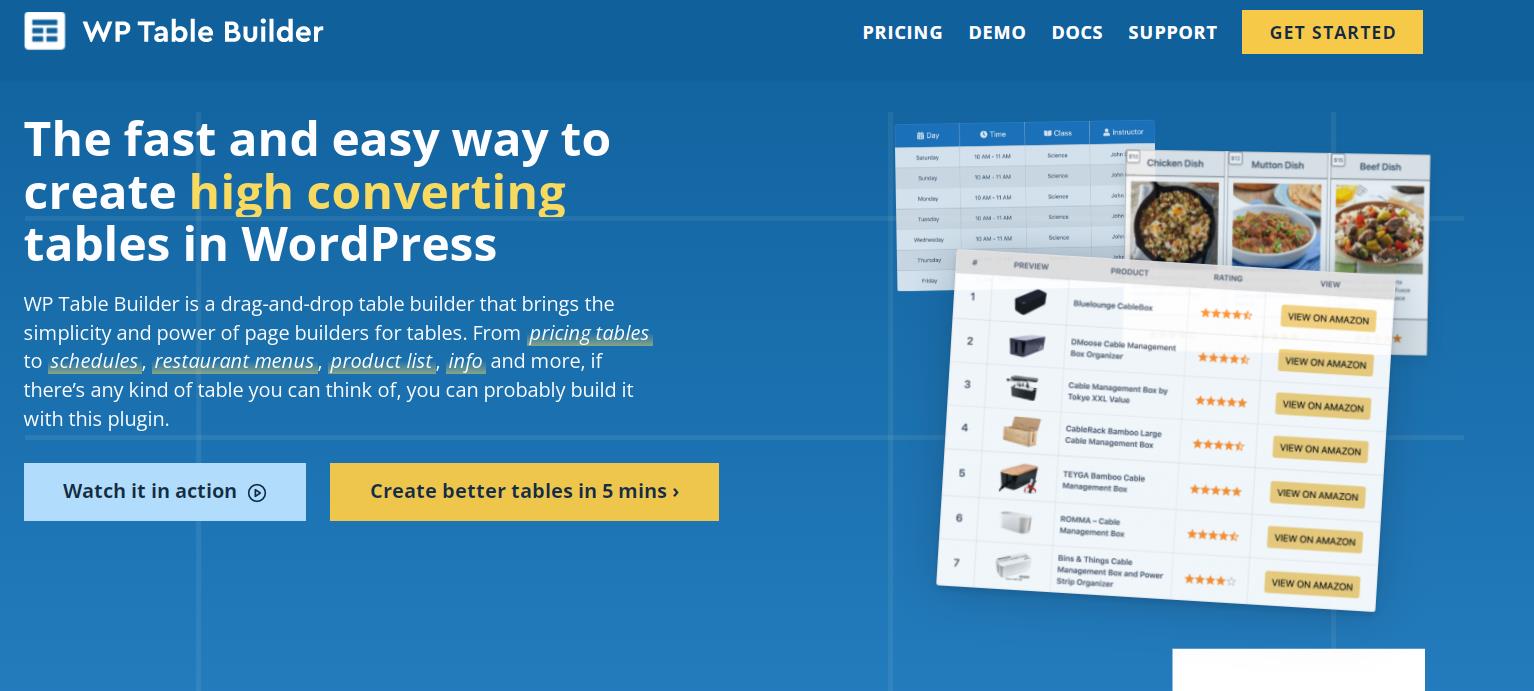 WP Table Builder is one of the most popular pricing table plugins, and it gained popularity because it is so easy to use. Simply drag and drop a pricing table anywhere on your website, and once you have chosen the spot for the pricing table, you will be able to edit each of the seven columns the table has. You can also edit individual cells, import or export tables, and the best part is that they are fully responsive, so you don't have to worry if the tables will look bad on other devices.
The plugin is a freemium plugin, which means that there is a free version that you can download. Still, if you want to unlock all the features this plugin can offer, their prices go from $39 per year for one website up to $249 as a one-time payment for a lifetime license that can be used on as many websites as you want. WP Table Builder also has a 14-day money-back guarantee, so you can always get a refund if you happen not to like the plugin.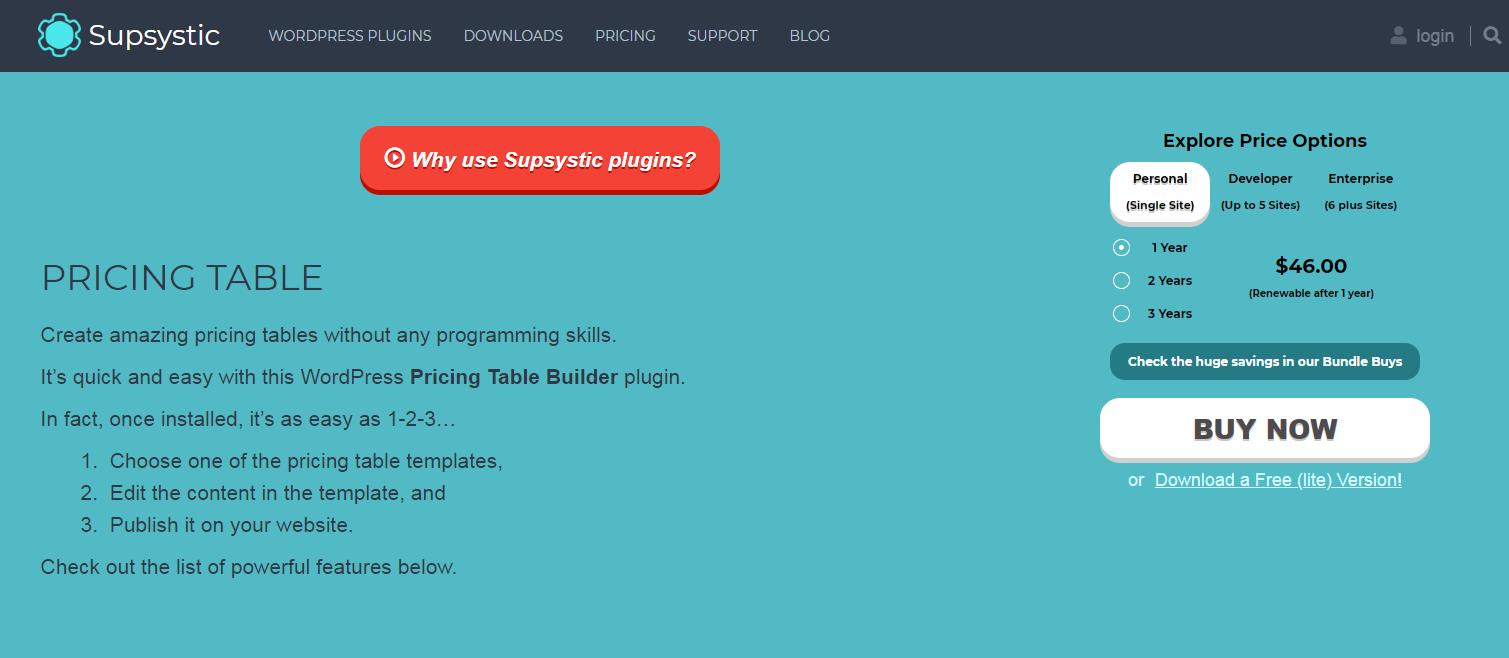 This Pricing Table plugin is excellent for people who don't want to worry too much about building the table themselves, as it offers a huge number of templates you can choose from, and the templates are customizable. The plugin is so good because the Pro and the free version come with the same features; the only difference is that the Pro version comes with a pack of premium templates and role restrictions.
Pricing Table by Supsystic offers unlimited rows and columns, customizable font and text background color, text and table alignment, and many more. The prices for the Pro version vary, as they have an option for only one website for $46, up to five websites for $69, and for six and more websites, the price is $149.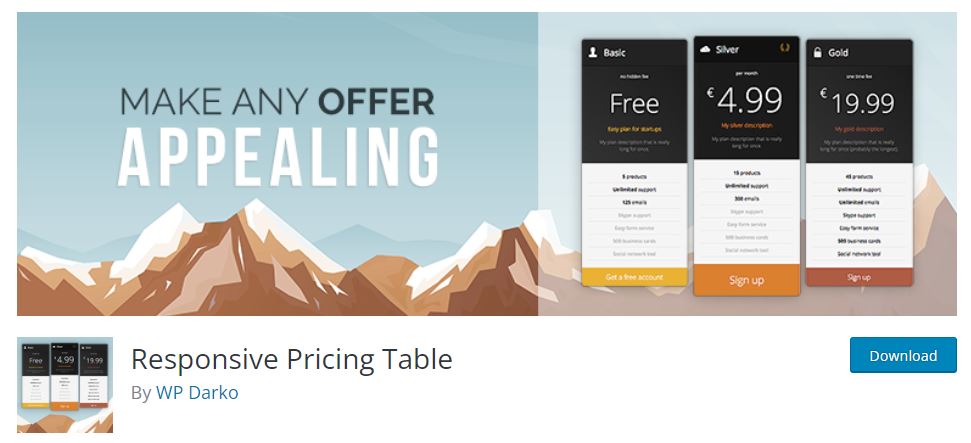 This plugin is our first free recommendation of the day. The Responsive Pricing Table is a bit simpler, but it's only to expected as it is free. Using this plugin, you can easily set your tiered pricing for subscriptions or memberships in a manner of minutes. Choose a color, and customize your table to match the aesthetic perfectly. No hassle, no extra steps.
During the customization process, next to just the title, you can edit virtually any field: the title, the subtitle, the description, add a price, feature a small icon, add a click button, or add custom CSS to customize further. It's really that simple.
While this plugin does serve its purpose just fine, there is also a premium version that unlocks more features and customization options. So, if you're truly looking to harness its full power, you will have to upgrade at some point. But the upside is that you're more than free to use the core version first and only opt to purchase it if you love it.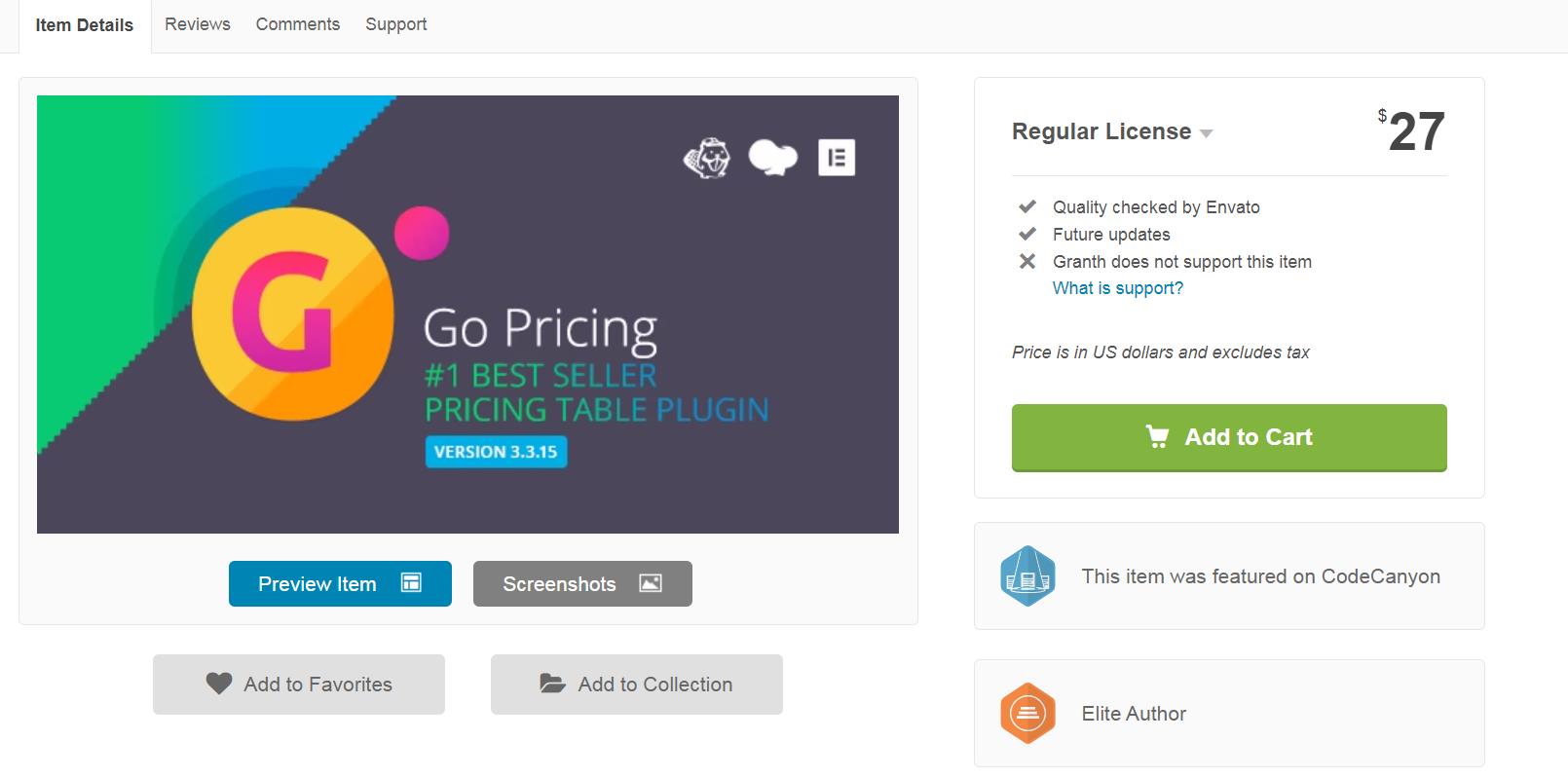 If you're looking for something a bit more comprehensive, our go-to recommendation would be Go Pricing. It's packed with features, it's straightforward to use, but it does not offer a free plan or a free trial. So, if your heart is set on this one, make sure you know exactly what you want.
One of this plugin's main selling points is just how much control it gives you over the overall appearance of your pricing table – the customization options are virtually limitless. You can create custom color combinations and give your headers a special visual style. In addition, there Go Pricing eliminates any need for coding, and even a non-techie can do everything.
Being the most popular premium pricing table plugin, Go Pricing has a price to match. You can get it off of Code Canyon for $27. But even if you're not really into designing these tables yourself, the plugin offers ver 250 demo ones, which you can simply tweak to get what you want. However, it is worth mentioning that even though the plugin is great to use, it offers no support.
Final Words
If you're selling anything on your site, you'll want to make sure customers can see your tiered pricing. In addition, you can also use a pricing table to show your prices beath those of your rivals. No matter what the case may be, pricing tables offer greater transparency and help your customers know what they're paying for and how much they're paying for it.
Also, if you are looking for secure and reliable hosting for your online store, check plans that offer the WPMU DEV hosting platform.
We gave you some free and premium options, so no matter our budget, you can have one of these up and running on your site in no time at all.