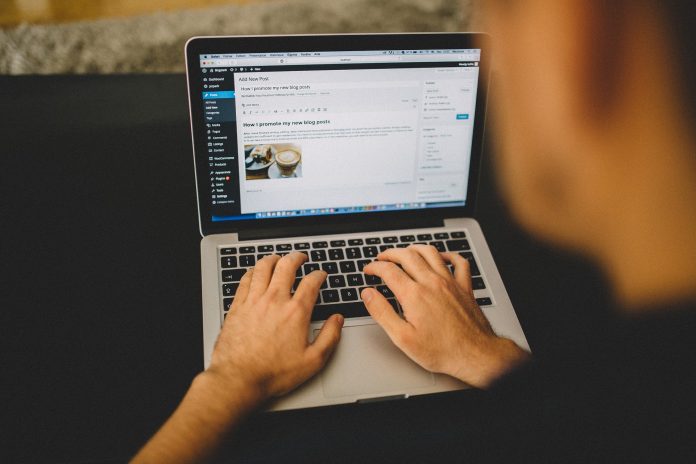 Bloggers invest their heart and soul into generating wonderfully worded paragraphs, eye-catching graphics, and appealing leads. It's a lot of effort! Their website is a reflection of their ideas and opinions, and they want it to attract a large crowd.
Why would you, as a blogger, offer your visitors poor graphics, distracting gadgets, and difficult-to-read font when the average human attention span is just 8 seconds? Thanks to the custom WordPress development bloggers can now offer more interactive and engaging content to the readers that they will love to read for sure.
The worst you can do is make them dig through the site like a markdown bin looking for your best work.
Here is how you can avoid doing just that.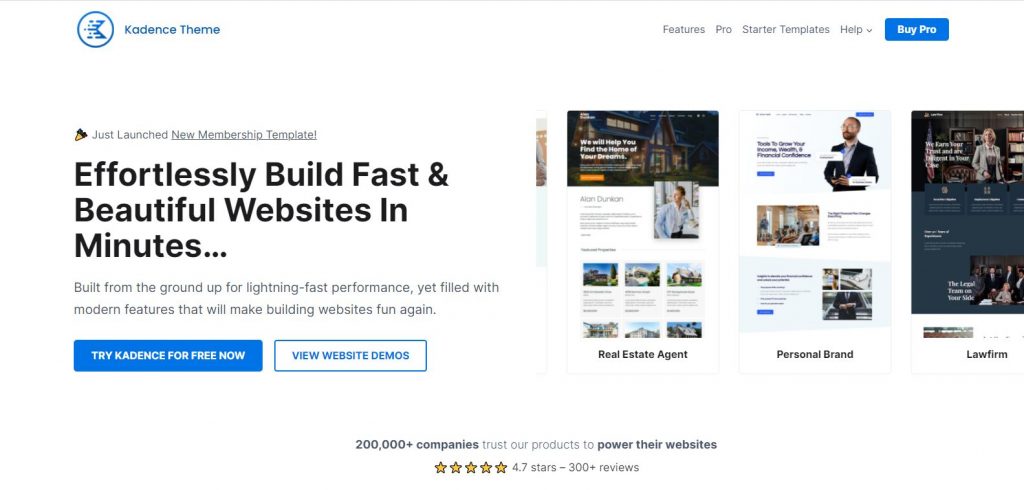 Look no farther than Kadence Theme, is one answer. If you want to create attractive websites that are stylish, fast-loading, and adhere to accessibility requirements, this is the theme for you.
It's a simple theme with a drag-and-drop header and footer builder and six starter templates to help you get started quickly and have your website up and running. With plenty of choices for pages, posts, and custom post types, you can fully customize the look of your blog.
You can change almost all of the aspects of the theme, like the font, colors, menus, and many others. Using the provided global color palette, you can simply set up your brand colors to display on components like buttons, links, and headers.
Their premium edition includes 20 new header components, conditional elements, and a Woocommerce plugin, among other things.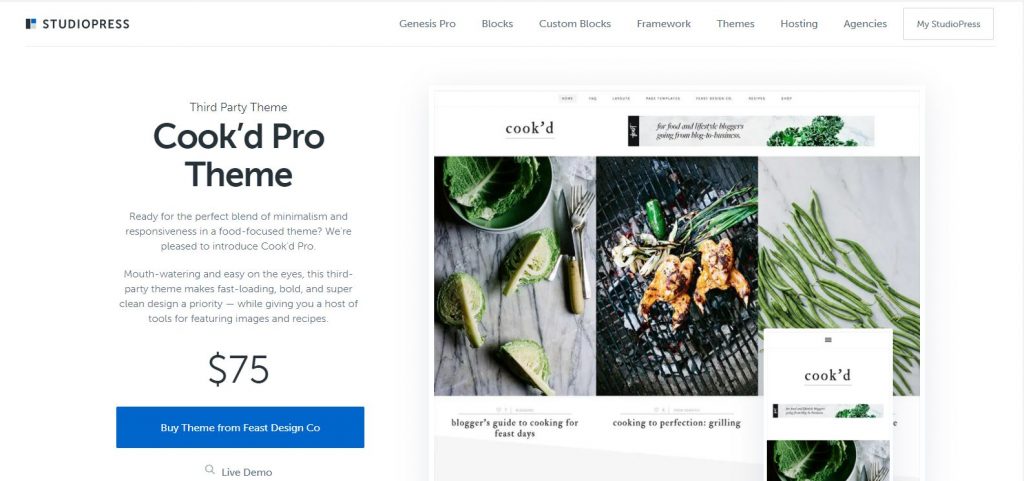 Cook'd is a new theme from StudioPress, the creators of the famous Foodie Pro theme. It's a third-party theme that Feast Design Co. supports.
A feature-rich, minimalist theme, Cook'd focuses strongly on food. There are three homepage layout options and five post layout options, all with ample room for your favorite widgets. There is also a hero section, a spot for huge headlines or pictures to capture a visitor's attention, included in this theme. Besides that, there is plenty of room in the sidebars and footer areas to offer extra information about your recipes or business.
This theme is ideal for food and drink bloggers that post a lot of images.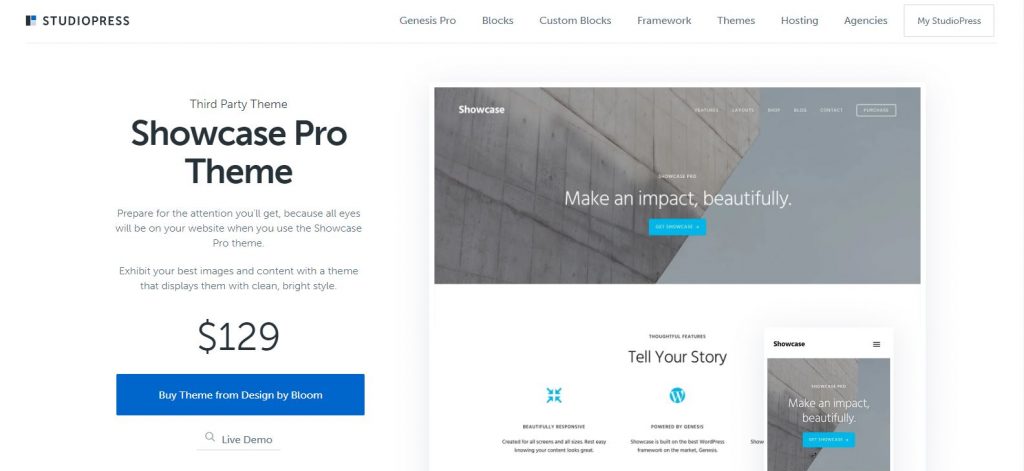 JT Grauke recommends Showcase Pro, a modern third-party theme.
It has three layout options (sidebar left, sidebar right, and full-width) as well as widget sections and a footer to display more information about you and your company. The built-in theme customizer allows you to alter the color and background.
The typeface is a simple sans-serif with all of the standard WordPress features (unordered/ordered lists, headers, and button styles).
According to award-winning UX/UI designer, Michelle Dipp, this versatile theme is ideal for business-oriented blogs and bloggers. Showcase Pro is great for showcasing your work without being overburdened with unnecessary distractions.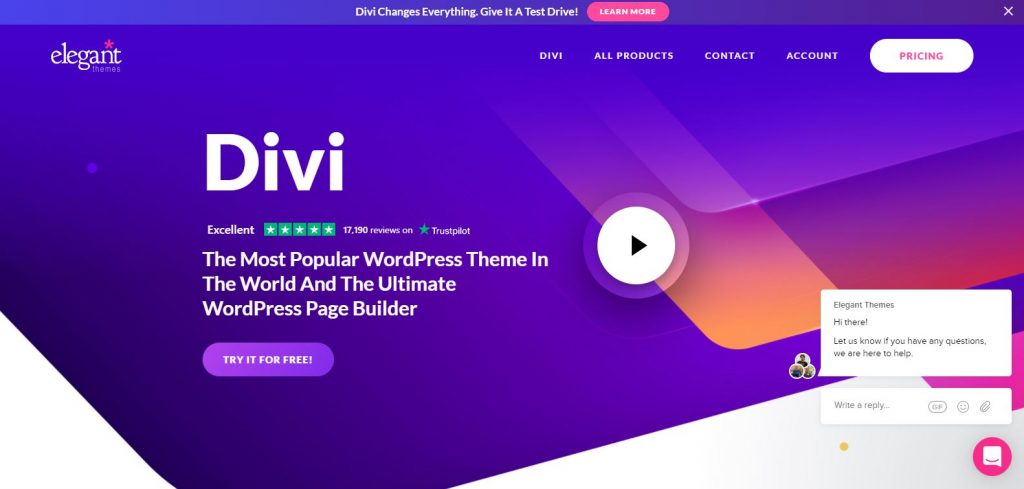 The ultimate WordPress theme, Divi, allows anybody to build a website from the ground up. There's no need to code anything. Elegant Themes' Divi theme is absolutely magnificent and one of the most versatile themes out there.
You won't be bound by a certain style, color, or typeface. Divi can be customized in every aspect, from the way it appears to the number of pages and designs you can have. Drag and drop, write, color, and design on the page while seeing the changes in real-time. This theme is simple to use and manage.
Divi is the only premium theme you'll need if you want one that will grow with you and your blogging activities. It's ideal for…everyone.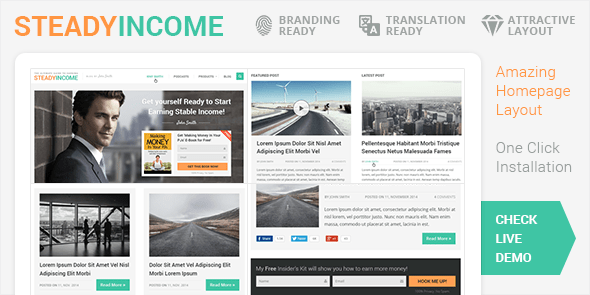 With SteadyIncome, Mythemeshop has you covered if you're into internet marketing or if you're an online entrepreneur.
This modern, responsive theme is jam-packed with features that help increase sign-ups and turn visitors into clients. To mention a few features, you have a partner logo slider, a recent blog post section, a built-in subscription box, author information, and a social network widget.
Mythemeshop's unique panel box with options makes customization simple and easy, allowing you to rapidly make design changes.
If you want to establish yourself as an expert internet marketer, SteadyIncome provides all the necessities.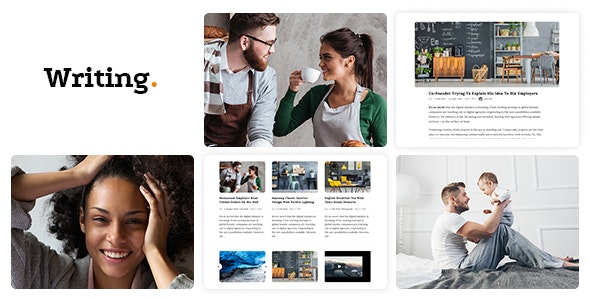 If you want a basic theme that allows your visitors to focus on your written content, then Writing is the theme for you. It is the most simple, easy-to-read theme in the Themeforest portfolio that you can use in your own blog.
A basic sidebar with social, contact, and other information is concealed until a visitor clicks on the menu icon. Basic menus also provide clear guidance to your main content. It includes the standard display options (default, classic, list, and masonry) and customization for colors and typeface.
The theme is ideal for bloggers wanting a simple, clean-looking website that is also easy to administer.
Conclusion
Get a WordPress blog theme that best shows your style and hard work. No matter what sort of site you have, we hope this list will help you decide.
You invest a lot of time and effort into generating the content, and it needs to be presentable to attract the biggest possible audience. Achieving this, with simple and eye-pleasing themes, has never been easier.